In collaboration with the NC Department of Public Instruction, the free CFNC transcript system allows both current students and graduates to send and check the status of their requests in the CFNC Application Hub. When students make a request, their transcript information is pulled from the state's student information system (PowerSchool) and securely delivered to the appropriate NC college or university. Over 600 NC high schools and over 100 NC colleges currently participate.
Highlighted Features of Transcript Tracking Report
The main page allows you to easily search for students connected to your school who have sent transcripts. Features include:
Grad Year Search - Choose a specific graduation year to narrow your search. Graduation Year is based on the selection users have stored in their CFNC.org account. Users can provide this at the time of account creation or edit it later in My Dashboard > My Profile.
Column Search - Search for data in any column (Last Name, First Name, Middle Name, Date of Birth or Student ID).
Column Sort - Click the column heading to sort in ascending or descending order.
View Transcript Activity - To view a transcript activity report for a student, click on that row in the table. This will open the Transcript Activity Report dialog box.
Click image to enlarge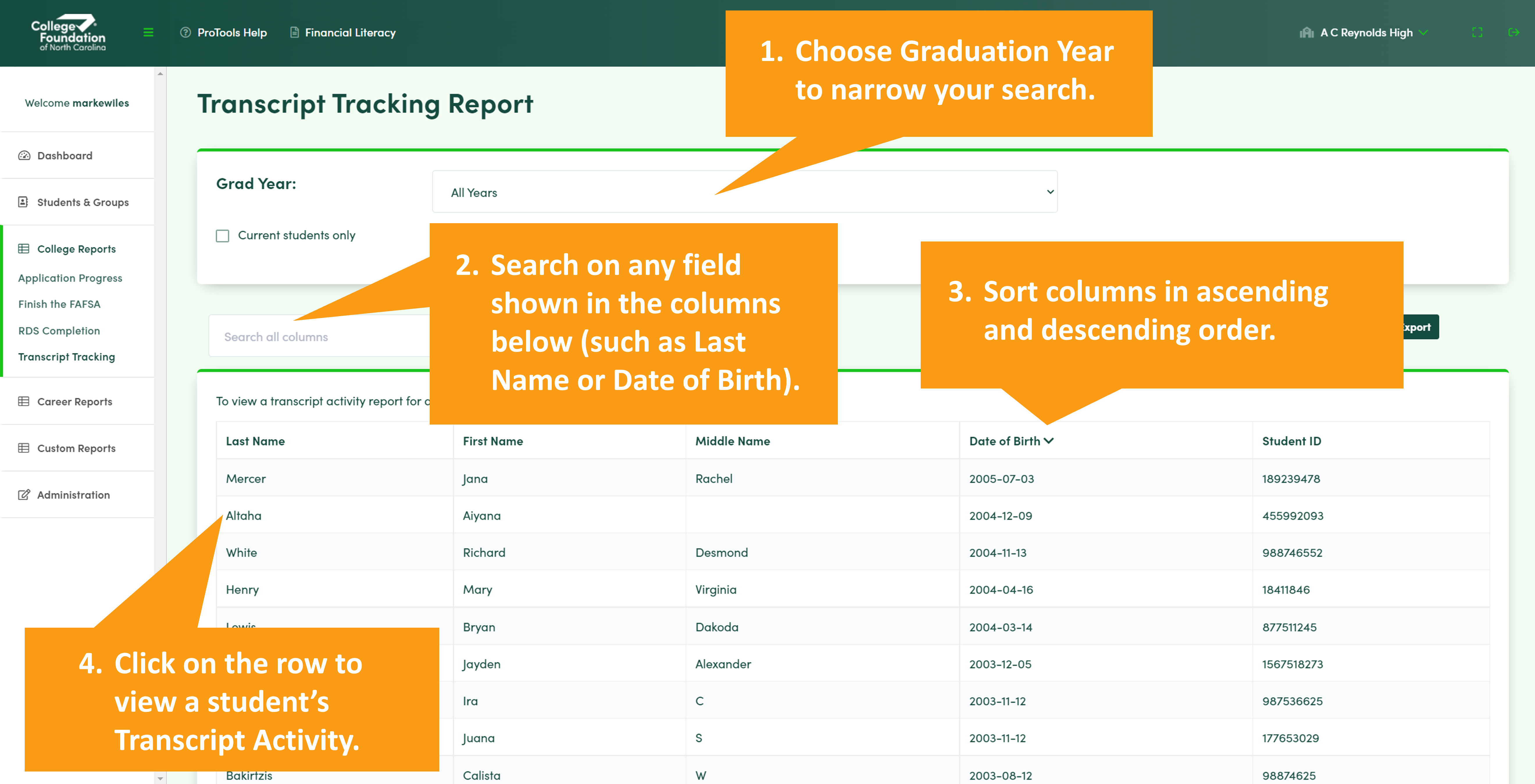 Transcript Activity
When you click on a row in the table it opens the Transcript Activity dialog box with details about each transcript that student has sent.
Click image to enlarge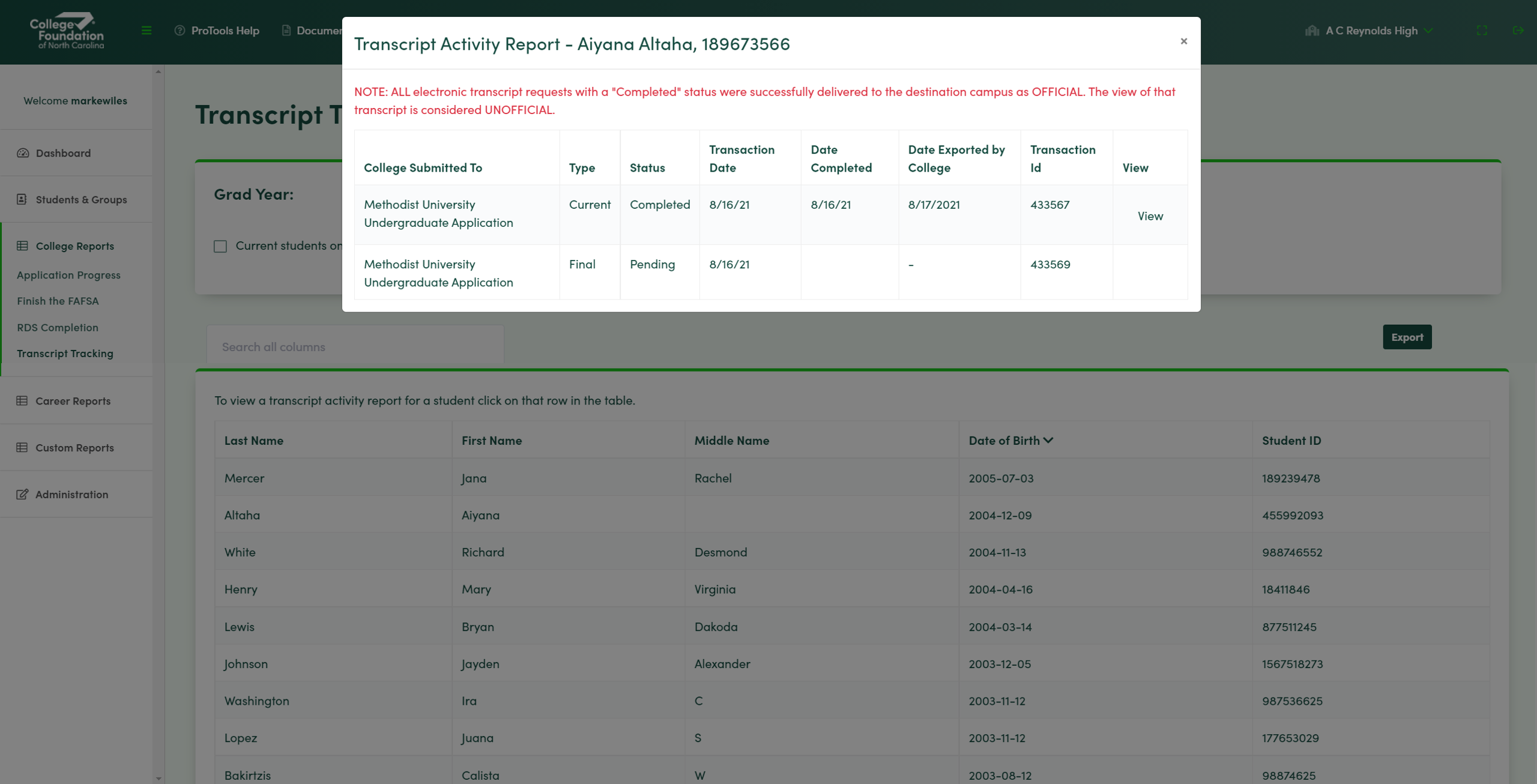 A. Type

There are two types of transcripts: current and final. When a high school graduate requests a transcript, the final transcript is immediately sent. When a current high school student requests a transcript, a current transcript is immediately sent and a final transcript is put into queue for automatic sending at the end of the school year.

B. Status

There are

three

possibilities in the Status field:

Requested, Completed, or Failed

.

A Requested status indicates that the request has been queued but not yet processed

. If the request is for a final transcript, it will remain in the

Requested

status until

grades are finalized by the student's school

. A

Completed

status indicates the request has been

processed successfully and is downloadable by the specified college

. A Failed status indicates there was a problem processing the request. If the status is Failed, students should receive an email indicating the type of error.
A common cause for transcript failure is that the information the student entered in the CFNC Request a Transcript online form doesn't exactly match their information in PowerSchool. You might assist the student by verifying that the information they provided in the transcript request exactly matches what is listed in their PowerSchool record. If the student information is not the issue, you may need to create a trouble ticket with PowerSchool support.

C. Date Completed

This is the date on which the transcript was successfully delivered to the college. Colleges will be able to download a transcript almost immediately, but they ask that students allow 2-3 weeks for them to download and process.

D. Date Exported by College

This allows you to a) verify that the college has exported the transcript, and b) view the date of export.

E. Transaction ID

Each transcript request is assigned a Transaction ID. If a college asks a student to confirm that they have sent a transcript, students can go to the CFNC Application Hub and then share this ID number with the college. You can also assist by viewing the same Transaction ID here.

E. View

Click View to see an unofficial copy of the transcript sent. Students also have this ability in the CFNC Application Hub.
Please note that not all ProTools users have this feature since access is controlled at the Administration level for each school or organization.